Kampa Park Restaurant – 1st February 2018
With Valentine's Day lurking just around the corner, now might be the ideal time to book a romantic meal for you and your partner. I recently visited Kampa Park Restaurant and I believe that it might just be the most endearing spot in town for an opulent evening.
The Venue
Traditionally, when we think of a romantic dinner venue, the obvious comes to mind; exquisite taste, relaxing ambiance, classy wine and elegant cuisine. From start to finish, Kampa Park Restaurant had all this and more. My partner and I had a superb evening and enjoyed a fantastic meal with a magnificent view of the Vltava and Charles Bridge.
The walkway leading into the restaurant is candlelit on each side, giving visitors an impression of exclusivity and the smartly dressed staff are on hand to politely guide you to your seats. The décor of the restaurant, whilst not overstated, is refined and comfortable, allowing for the diner to feel relaxed as opposed to the often stuffy atmospheres of many of Prague's fine dining experiences.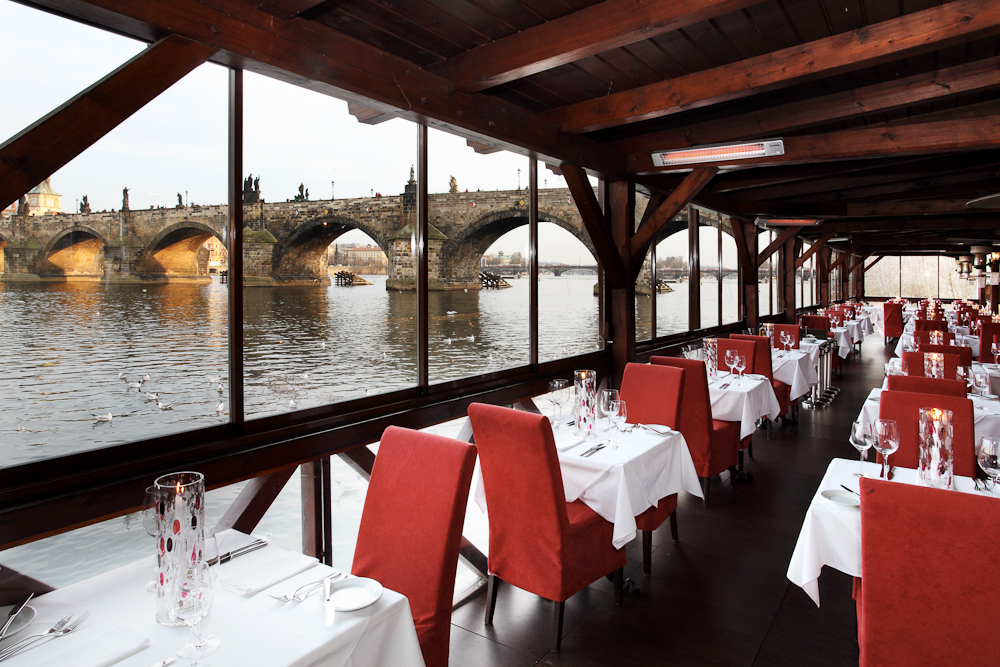 The Food
We chose the 5 course degustation menu as we thought it would give us a little taste of everything, as opposed to being limited to a single taste for the evening. Here's a little insight in the different dishes included in the menu.
I'd heard a lot about the food at Kampa Park so I had high hopes. I knew that it was fine dining, and a brief look at the menu gave me the impression of a very professional kitchen that knew a great deal about food and how it should be prepared.
King crab ravioli with ka R lime aioli, tarragon and orange dust       
I've always liked the taste of crab, but I usually spend half of my time digging the meat out of shells, so a small portion of crab ravioli was a refreshing twist. It was not the biggest dish I've ever had, but it did have a great seafood taste and it looked beautiful. The orange dusting was a subtle and welcome addition.
Broccolini with smoked sauce Hollandaise, morels and egg yolk confit         
I have never been a fan of broccoli, and in all honesty, I hadn't even heard of Broccolini, but this was the dish that surprised me the most. The Hollandaise sauce completely altered the broccoli taste and I even surprised myself by finishing the dish. The morel mushrooms were also a neat addition to the second starter with a rich earthy taste.
Arctic char with Vichyssoise ragout, Bouchot mussels, green asparagus and dill oil  
 When I first perused the menu, I was, as I often am, drawn immediately to the lamb as the dish I was most looking forward to. I like seafood and I've tried most types of fish but it has never been a dish that I would choose over lamb. This dish, however, was exceptional in every way. The arctic char was well prepared and fresh tasting, as though it had been plucked from the sea that same morning. It was paired well with the asparagus, potato cubes and dill, and had me nicely prepared for the course I was anticipating the most.
Rack of lamb with eggplant purée, artichokes, chorizo, beluga lentils and mustard seed sauce    
Lamb is not a well-liked meat in the Czech Republic. In order to acquire some lamb, in fact, you have to source it frozen from Iceland or from specialist shops. The major supermarkets very rarely stock lamb and for me, that makes it all the more special. I've always loved the taste of lamb, especially when paired with mint and this dish was excellent. The eggplant puree was unexpectedly nice, although mashed potato would have been just as good. Beluga lentils added a new dimension to the dish and it did not take long to finish.
Strawberry cappuccino with vanilla ice cream, walnuts, meringue and forest berries           
My partner in crime liked this one the best. I enjoyed the dessert, but I've never really been a huge sweet person so I left the dessert evaluation to her. She said it was rich, filling and extremely sweet. The dish, as with all dishes we tried, was splendidly prepared and looked incredible. The taste was great and we topped it off with another glass of well-chosen wine.
Conclusion
An evening is made special by multiple factors. If just one small thing leaves gives you cause for concern, the evening can be overshadowed. With Kampa park restaurant, everything was well prepared, well thought through and excellently delivered. From my usual restaurant frequentations, this was on the upper end of the price scale as it does cost a little more than I usually pay at Prague restaurants. That being said, you really do get what you pay for and just once in a while, I wholeheartedly recommend splashing out and indulging yourself in a place like this.
Na Kampě 8b, Prague 1
11:30 am – 01:00 am, 04:00 pm – 06:00 pm: kitchen break