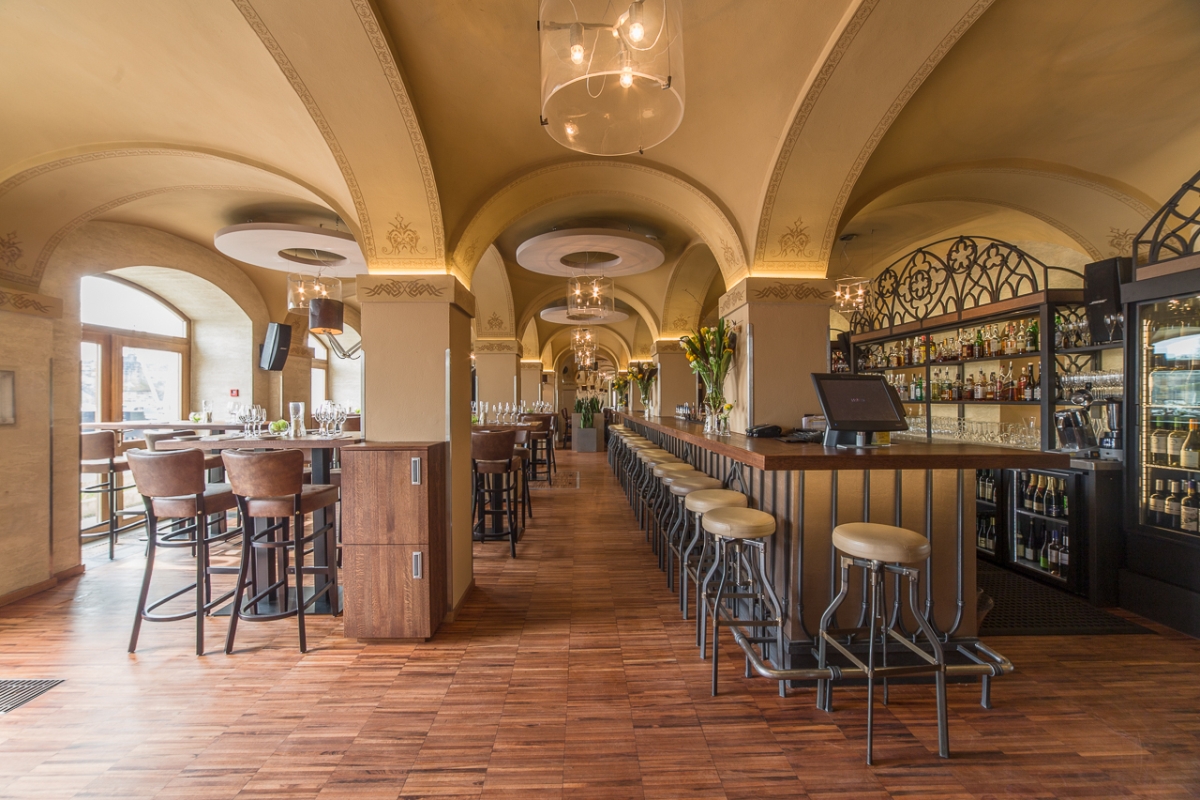 I recently visited Hergetova Cihelna for an evening meal and came away more than satisfied with what I'd experienced. I knew very little about this place apart from the fact it had an odd sounding name and someone had told me it was the 'little brother' of Kampa Park, where I'd also recently dined.
Given that Kampa Park was a pretty incredible experience in every aspect, I did have reasonably high hopes and expectations.
A quick check of the restaurant website explained what it was all about:
Hergetova Cihelna is a lively and stylish restaurant on the bank of Prague`s Vltava river with a spectacular view of the Charles Bridge. Locals and visitors come here for creative variations on Czech and international favorites, gourmet salads, and the freshest seafood anywhere.
The Service:
Our waiter, Robin, was an extremely smart guy and knew everything about every meal we were eating, explaining in both Czech and English how the food was prepared and which wines would complement each dish. He was attentive and professional, but not overly intrusive as some waiters can be when they are trying a bit too hard.
We did come with a slight hindrance to the restaurant, as we both wanted to try several things and have the degustacion menu, even though my partner is a vegetarian and sometimes restaurants aren't always so friendly towards those who refrain from meat. The chef and staff at Hergetova Cihelna, however, were more than accommodating and made our evening very special.
The Meal
Baked goat cheese with caramelized red onion and beet root, rye-hazelnut bread and orange-carrot sauce      
I've never been a huge fan of goat cheese and I probably wouldn't choose this as a starter if I saw it on another menu, but we both agreed that this was quite tasty. The smell and taste were not overpowering, and the waiter had suggested a French rose to accompany the dish which worked well.
Oxtail consommé with butter-fried crispy dumplings filled with oxtail meat and mixed vegetable         
I wasn't overly crazy when I saw this on the menu, as my previous experiences had taught me that this can dish be easily done very wrong. I won't say that I'd order it as a main course if I didn't have the degustation menu, but I didn't dislike it and it was a pretty tasty accompaniment to bridge the gap to the next dish which I loved.
Oven baked pike-perch with creamy celery sauce, kale and cheese dumplings    
The fish was great in taste and freshness and the presentation was quite exquisite. This was an excellent dish and it really looked the part when it was served to us. I did enjoy the combination of tastes that this hot dish gave me, and the accompaniments were just perfect. I had a really good chardonnay to help it down and despite not being a wine connoisseur, I could tell that the drink and the dish were a perfect combination.
Fried phyllo pockets filled with duck confit with cabbage-onion salsa and homemade plum sauce   
This was, according to our waiter Robin, a fairly new addition to the menu and would be on the main menu in the following season. I didn't fully appreciate the cabbage salsa, but the plum sauce gave the pastry pockets an oriental feel and it really did work well. It worked well to go after the fish dish, as it was lighter and fell like we were on the downward slope towards the dessert.
Chocolate fondant with salt caramel ice cream, apricot purée and pistachio crumble       
This was the best dish for me, without a doubt. I don't usually have a sweet tooth, but I do cave when it comes to chocolate and this meal was pretty great. The ice cream was rich and complimented the fondant well, as did the sweet taste of the apricot. It did not last long.
Price of menu: 950 CZK
The Experience:
For the price of the meal, you really can't go wrong with Hergetova Cihelna. The setting is superb, with a great view of the river and Charles Bridge, and the interior is sublime, giving the impression of a Michelin class eatery.
Whilst the food wasn't in the same league as Kampa Park, it was really good. When I first looked at the menu, I didn't see expensive ingredients and I wondered how some of the tastes would complement each other. In the end, I had nothing to worry about as the food really was great.
The thing that set this restaurant apart, however, was the exceptional service we received and the feeling we got from start to finish, making us feel like minor celebrities heading out for a fancy meal. I think it's an absolutely great place to take someone you are trying to impress, without spending the earth at the end.
Cihelná 2b, Prague 1
11:30 am – 01:00 am, 04:00 pm – 06:00 pm: kitchen break
Phone: +420 296 826 103
Fax: +420 257 535 820
kontakt@cihelna.com